Skip Main Content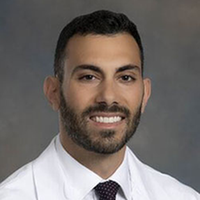 Dale Segal, MD
ROLE:
Surgical Treatment of Spinal Disorders
SPECIALTIES:
Surgical Treatment of Spinal Disorders
LANGUAGES:
WE CARE ABOUT YOUR FEEDBACK!
Please take a moment and let us know how your experience was.
REVIEW US
Dr. Segal is a fellowship trained spine surgeon specializing in minimally invasive and complex spine surgery. He completed a spine fellowship at Harvard University- Massachusetts General Hospital and Brigham & Women's Hospital.
He grew up in New York and graduated Summa Cum Laude from the University of Albany with a degree in biochemistry and molecular biology. He was awarded the John T. MacDonald scholarship to attend Florida International University where he obtained his medical degree and graduated with Alpha Omega Alpha honors. He completed his residency at Emory University and served as chief resident at the Emory Orthopedics and Spine Hospital.
The sole focus of Dr. Segal's practice is the diagnosis and treatment spinal disorders. His interests include minimally invasive, motion sparing techniques, degenerative diseases, navigation and robotics, deformities, fractures, and complex revisions.
He has authored numerous peer reviewed journal articles, book chapters and presented at national and international conferences. He is a member of several spine and orthopedic societies including NASS, AAOS, AOA. In his spare time, he enjoys spending time with his family, watersports, scuba diving and hiking.
Education
Massachusetts General/Brigham & Women's Hospital – Harvard Medical School

2020 - 2021

Emory University School of Medicine

Resident Physician,

Department of Orthopedic Surgery

2016 - 2020

Emory University School of Medicine

Surgical Internship,

Department of Orthopedic Surgery

2015 - 2016

Herbert Wertheim College of Medicine Florida International University

2011 - 2015

Albany Medical Center

Research Assistant,

Department Neurosurgery

2010 - 2011

University at Albany, State University of New York. Albany, NY

BS,

Biochemistry & Molecular Biology

2006 - 2010
Professional Affiliations
American Orthopedic Association ELP

Member

American Academy of Orthopedic Surgeons

Member

North American Spine Society

Member
Awards
Emory University Dept Orthopedic Surgery

Chief Resident

2020

American Orthopedic Association

Emerging Leader Program

2019

Southern Orthopedic Association

Harley and Betty Baxter Research Award

2018

Orthopedic Seed Grant

2017

Alpha Omega Alpha Medical Honors Society

2015

Distinguished Student Scholarship

2015

Summer Research Grant

2011

Academic Honors

2014

Summa Cum Laude

2010

Academic Merit Scholarship

2010

Dean's List of Distinguished Students

2010

Presidential Honors Society

2010
Publications
Segal DN, Ball J, Fletcher ND, Yoon E, Bastrom T, Vitale MG; Harms Study Group, Risk factors for the development of DJK in AIS patients undergoing posterior spinal instrumentation and fusion. Spine Deform 2021 Sept 16 PMID: 34529249

September 2021

Segal DN, Lunati MP, Kukowski NR, Michael KW. White Cord Syndrome and Acute Tetraplegia After Posterior Cervical Decompression: A Case Report JBJS Case Connect. 2021 Jun 11;11(2) PMID: 34115641

June 2021

Konopka JA, Grabel ZJ, Segal DN, Rhee JM. Intraoperative Neuromonitoring Use Patterns in Degenerative, Nondeformity Cervical Spine Surgery: A Survey of the Cervical Spine Research Society. Clin Spine Surg. 2020 Sept 25. PMID: 32991365

September 2020

Grabel ZJ, Lunati MP, Segal DN, Kukowski NR, Yoon ST, Jain A. Thoracolumbar spinal fractures associated with ground level falls in the elderly: An analysis of 254,486 emergency department visits. J Clin Orthop Trauma Sept-Oct 2020. 11(5): 916-920 PMID: 32879581

October 2020

Segal DN, Orland KJ, Yoon E, Bastrom T, Fletcher ND, Harms Study Group Fusions Ending Above the Sagittal Stable Vertebrae: Does it Matter? Spine Deform. 2020 May 13 PMID: 32405718

May 2020

Segal DN, Grabel ZJ, Konopka JA, Boissonneault AR, Yoon E, Bastrom T, Flynn JH. Harms Study Group Fletcher N, Fusions Ending at the Thoracolumbar Junction in Adolescent Idiopathic Scoliosis: Comparison of Lower Instrumented Vertebrae. Spine Deform. 2020 Apr;8(2):205-211 PMID: 3202643

April 2020

Segal DN, Grabel ZJ, Heller JG, Michael KM, Rhee JM, Yoon ST, Jain A. Epidemiology and Treatment of Central Cord Syndrome in the United States J Spine Surg 2018 Dec;4(4):712-716 PMID: 30714002

December 2018

Segal DN, Grabel ZJ, Wilson JM, Milby AM, Hutton PW, Rhee JM. Total Disc Replacement Adjacent to a Multilevel Fusion. World Neurosurg. 2018 Nov, S1878-8750(18) PMID: 30391767

November 2018

Segal DN, Grabel ZJ, Shi WJ, Gottschalk MB, Boden SD. The Impact of Insurance Coverage on Access to Orthopedic Spine Care. J Spine Surg. 2018 June. 4(2), 260-263. PMID: 30069516

June 2018

Segal DN, Wilson JM, Staley C, Yoon ST. Outpatient and Inpatient Single-Level Cervical Total Disc Replacement: A Comparison of 30-day Outcomes. Spine (Phila Pa 1976). 2018 June doi:10.1097 PMID: 29894451

June 2018

Grabel ZJ, Boden A, Segal DN, Boden S, Milby AH, Heller JG. The Impact of Prophylactic Intraoperative Vancomycin Powder on Microbial Profile, Antibiotic Regimen, Length of Stay, and Reoperation Rate in Elective Spine Surgery. Spine J. 2018 May. doi:10.1016/j.spinee.2018.05.036. PMID: 29859351

May 2018

Segal DN, Wilson JM, Staley C, Michael KW. The 5-Item Modified Frailty Index Is Predictive of 30-Day Postoperative Complications in Patients Undergoing Kyphoplasty Vertebral Augmentation. World Neurosurg, 2018 Aug. 116, e225-e231 PMID: 2972945

August 2018

Segal DN, Wilson JM, Staley C, Michael KW. The 5-Item Modified Frailty Index Is Predictive of 30-Day Postoperative Complications in Patients Undergoing Kyphoplasty Vertebral Augmentation. World Neurosurg, 2018 Aug. 116, e225-e231 PMID: 29729455

Iobst C, ArangoD, Segal D, Skaggs DL. National access to care for children with fractures. J Pediatr Orthop, 33 2013 Sept. (6), 587-591. PMID: 23812144

June 2013

Michael KW, Segal DN, Rhee JM. Anterior Decompression and Instrumentation Techniques for Thoracolumbar Fractures Section XII: Trauma. Chapter 142. Textbook of Spinal Surgery, 4th Edition
Specialties
Surgical Treatment of Spinal Disorders